LinkedIn is a goldmine of professional information, making it a valuable resource for lead generation, recruitment, market research, and more. To harness the power of this platform, LinkedIn scraper tools have become essential. These tools help you extract valuable data from LinkedIn profiles, companies, and job listings efficiently. In this article, we'll explore the top 20 LinkedIn scraper tools that can supercharge your data extraction efforts.
Leadspyer is a powerful LinkedIn lead extractor and automation tool designed to streamline lead generation and prospecting efforts on the platform. Here are its key features, pros, cons, and pricing details:
Pros:
Efficient Prospect Generation: The tool helps users generate targeted prospect lists with powerful search filters, saving time and effort.
User-Friendly: It boasts a user-friendly interface, making it easy for both beginners and experienced users to navigate.
Automation: Users can automate the process of sending invitations and messages on LinkedIn, saving significant time.
Email Extraction: The tool allows users to extract LinkedIn emails quickly and easily.
Compatibility: It offers a Chrome extension to access details of locked profiles.
Versatility: Suitable for various professionals, including business owners, sales teams, marketing agencies, and recruiters.
Cons:
LinkedIn Policies: Users must be aware of LinkedIn's policies and ensure they use the tool responsibly to avoid any account-related issues.
Technical Skills: Some users may require technical proficiency to maximize the tool's potential.
Pricing: Their pricing tiers seem to cater to different business needs, with higher-priced plans offering unlimited capabilities. However, for specific details and to confirm the most up-to-date pricing information, it's advisable to visit LeadSpyer's official website or contact their customer support directly. How ever their startups plan states at $39 PM
User Reviews: Users have expressed satisfaction with the tool's capabilities, highlighting its effectiveness in expanding their LinkedIn networks and outreach efforts. The user-friendly interface has been particularly appreciated, making it accessible to individuals with varying levels of tech expertise. Additionally, the tool's customer support team has received praise for their responsiveness and willingness to assist users.
Bonus Tools: The tool offers several bonus features, including Google Map Extractor, Chat Boat, Email Marketing Tool, Website Data Extractor, Email Warmup Tool, CRM for lead management, Whois Database access, and Sales pipeline creation.
FAQs:
Email Extraction Limit: There is no stated limit for email extraction with the business package.
Suitability for Agencies: The tool is suitable for agencies, and it maintains confidentiality.
Safety of Email Extraction: Email extraction is considered safe without any safety concerns.
Export to CRM: Users can export data to different CRMs using the outgoing API and Zapier Integration or by downloading a CSV file.
Please note that while the tool offers powerful features, it is essential to use it in compliance with LinkedIn's policies and guidelines to ensure a safe and productive LinkedIn experience. For accurate pricing information, it is advisable to visit the tool's official website or contact their support team directly.
2. LinkedIn Scraper by ScrapingExpert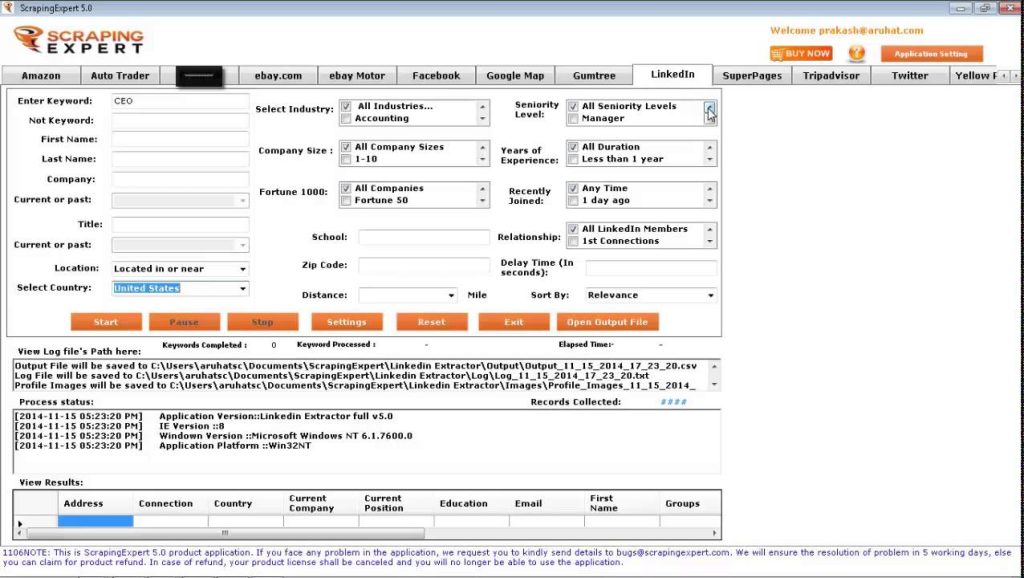 A specialized tool for scraping LinkedIn data, offering a user-friendly interface and advanced scraping capabilities.
The LinkedIn Data Scraper is a tool by ScrapingExpert designed for Sales, Marketing, Recruitment, and Procurement professionals. It extracts valuable data from LinkedIn, including email addresses, phone numbers, addresses, connections, education, and more. Here are some key points about this tool:
Pros:
Useful for gathering data on your target audience, competitors, and vendors.
Supports Basic, Premium, and Recruiter LinkedIn accounts.
Provides flexibility in search criteria, allowing you to filter profiles based on various parameters.
Offers a one-screen dashboard for easy control and operations.
Allows exporting scraped data in CSV format.
Includes features like delay settings to mimic human activity and avoid account blocking.
Cons:
Limited by LinkedIn's Commercial Use Limit and account blocking if excessive requests are made in a short time.
Some data, like email addresses, phone numbers, and website information, is only accessible for 1st-degree connections if publicly available.
The tool's functionality may be affected by changes in LinkedIn's source code or privacy settings.
Pricing:
Monthly Rental: $59
Annual Rental: $499
It's important to note that the tool's effectiveness may depend on LinkedIn's policies and changes to their platform. Users are encouraged to stay informed about LinkedIn's offerings and terms to use the LinkedIn Data Scraper effectively and safely.
3. Evaboot LinkedIn Scraper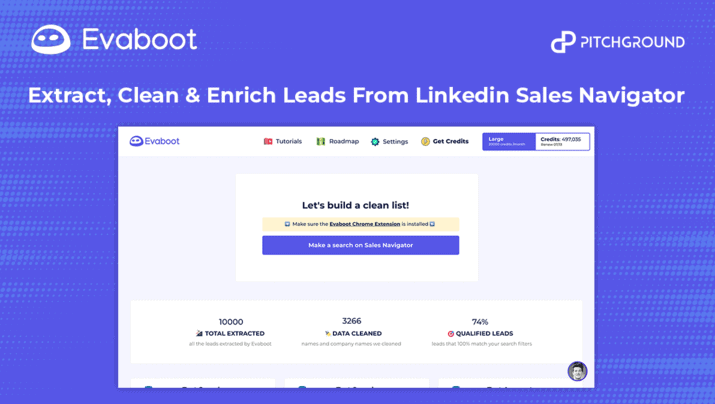 The LinkedIn Sales Navigator Scraper is a Chrome extension designed to enhance lead generation and data extraction from LinkedIn Sales Navigator. Here are the key aspects of this tool:
Pros:
Allows users to export clean data and find emails from LinkedIn Sales Navigator efficiently.
Supports the export of lead lists and searches to CSV format.
Automatically cleans names, job titles, and company names, ensuring data accuracy.
Offers the ability to verify if leads match Sales Navigator search filters.
Includes an email finder algorithm for discovering professional email addresses.
Provides email verification to ensure the validity of found emails.
Helps users stay within LinkedIn's scraping limitations and GDPR compliance.
Scalable, enabling integration with multiple Sales Navigator accounts and team collaboration.
Offers valuable tips and best practices for effective lead generation.
Cons:
The search results do not provide specific cons for this tool.
Pricing: LinkedIn Sales Navigator Scraper offers a tiered pricing structure based on the number of leads and email credits required:
For 2,000 leads per month: $29 monthly.
For 5,000 leads per month: $49 monthly.
For 20,000 leads per month: $99 monthly.
For 50,000 leads per month: $199 monthly.
For 100,000 leads per month: $399 monthly.
For 250,000 leads per month: $699 monthly.
This tool appears to be a valuable asset for professionals seeking efficient lead generation and data extraction from LinkedIn Sales Navigator, with features that enhance data accuracy and compliance with LinkedIn's policies.
4. Dripify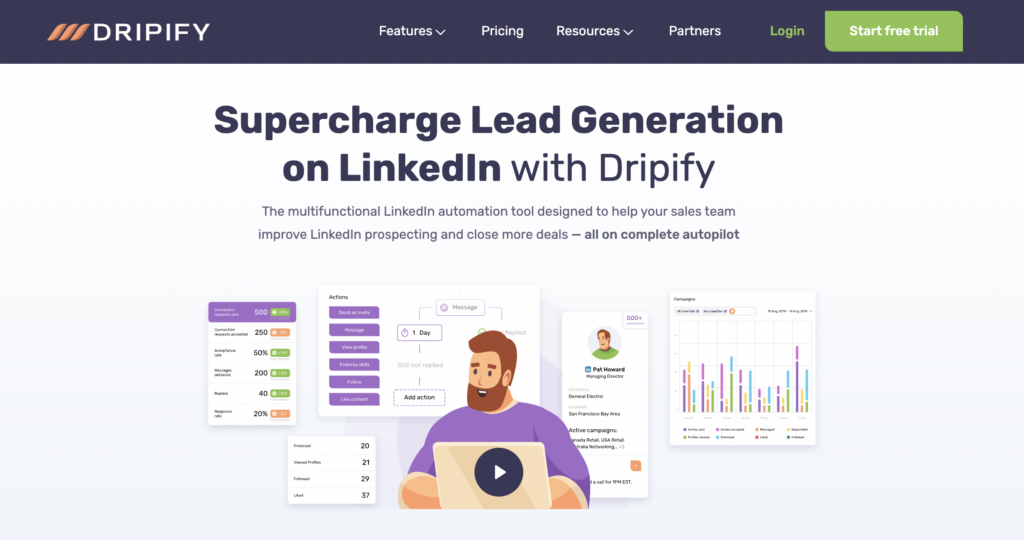 Dripify is a multifunctional LinkedIn automation tool designed to streamline lead generation and prospecting on LinkedIn. Here's an overview of its key aspects:
Pros:
Complete Automation: Dripify works in the cloud and can generate leads on LinkedIn even when your computer is offline.
Drip Campaigns: Create automated campaigns with sequences of actions, delays, and conditions.
Team Management: Easily onboard team members, assign roles, and monitor campaign performance from a control panel.
Lead Analysis: Track your LinkedIn activities, campaign metrics, and analyze team performance.
Data Export: Download lead data, including email addresses, for retargeting, email campaigns, and analysis.
Connection Request Limit: Dripify allows sending 500+ connection requests per week, surpassing LinkedIn's weekly limit.
Integration: Connect Dripify with over 1000 software applications via Zapier.
Safety: Employs advanced algorithms and assigns unique IP addresses to ensure safe and secure LinkedIn prospecting.
Pricing:
Dripify offers three pricing tiers for LinkedIn lead generation: Basic at $39/user/mo, Pro at $59/user/mo, and Advanced at $79/user/mo. Try for free with no credit card required.
5. LinkedIn Sales Navigator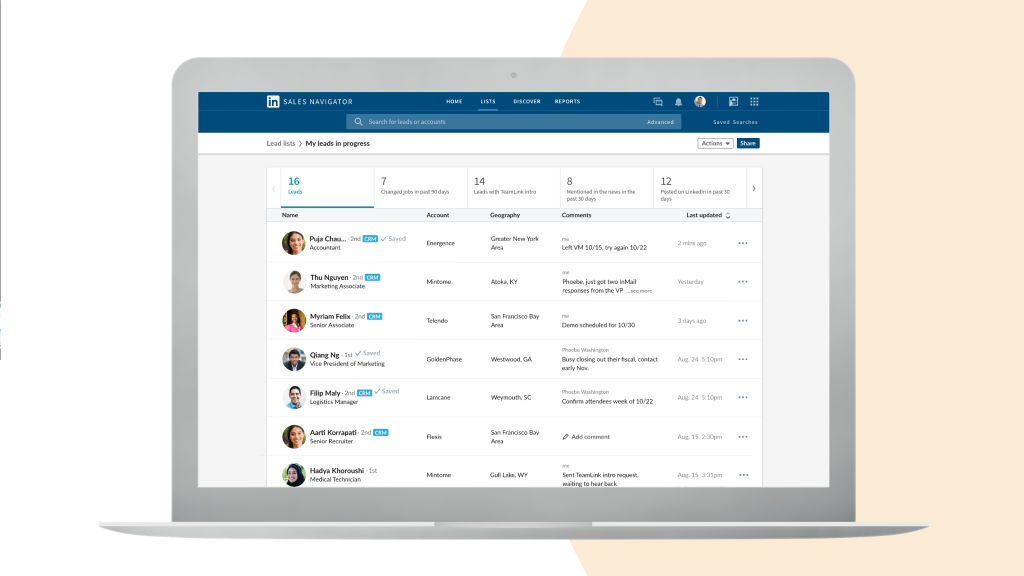 LinkedIn Sales Navigator is a powerful tool designed to enhance sales efforts on the LinkedIn platform. Here's an overview:
Pros:
Advanced Search Filters: It offers over 40 advanced search filters for precise lead and account targeting.
CRM Integrations: Seamlessly integrate with CRM systems, streamlining data management.
TeamLink: Leverage your company's network to connect with prospects effectively.
Buyer Intent Capabilities: Identify accounts and individuals with a high propensity to buy.
Relationship Explorer: Find the right path to decision-makers and discover hidden allies.
Cons:
Cost: Pricing varies based on features and can be expensive for smaller businesses.
Learning Curve: New users may require time to master its full potential.
Dependency: It heavily relies on LinkedIn's platform, subject to its limitations.
Pricing:
Core: Supercharge your sales funnel with qualified leads and insights.
Advanced: Includes Core features with team collaboration and CRM integration.
Advanced Plus: Adds CRM integration and more sales tools.
LinkedIn Sales Navigator pricing details are available on their official website.
6. Octoparse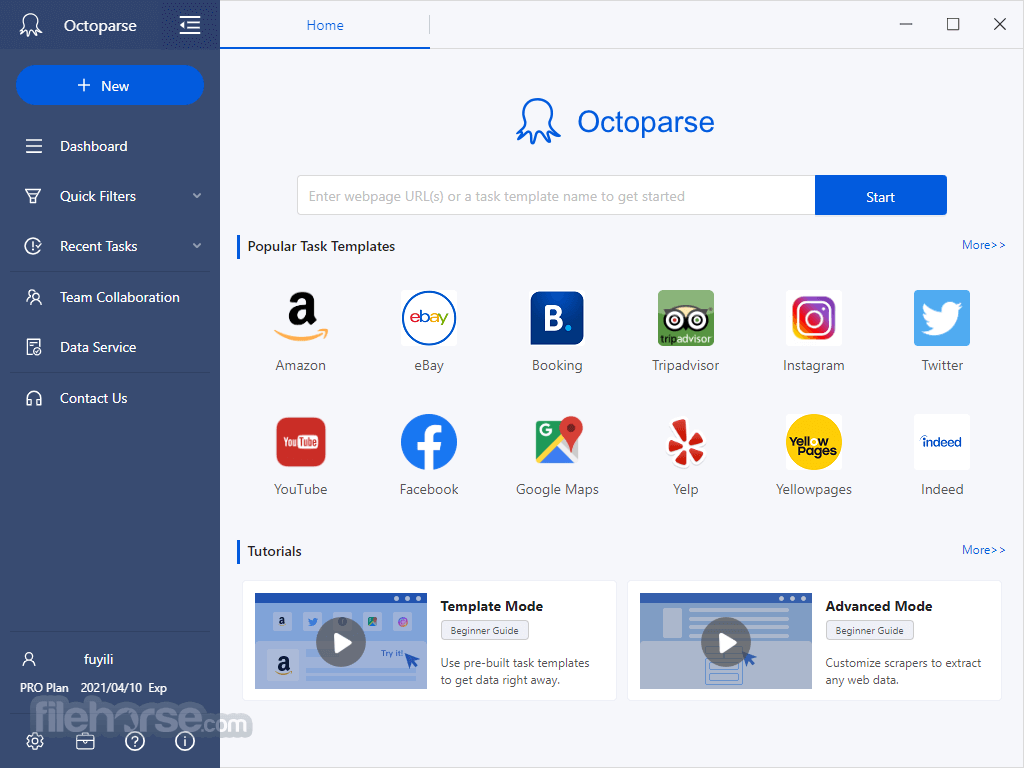 LinkedIn data scraping involves extracting information from LinkedIn, primarily user profiles and related data. Here are the key aspects:
Pros:
Data Access: Scraping allows access to valuable professional data on LinkedIn.
Talent Acquisition: Ideal for talent acquisition and recruitment by identifying potential candidates and analyzing their profiles.
Market Research: Useful for market research, competitive analysis, and industry insights.
Lead Generation: Enables lead generation by connecting with professionals in specific industries or roles.
Customization: Tools like Octoparse make scraping accessible without coding skills.
Cons:
Legal Concerns: LinkedIn's terms of service prohibit scraping, although it's legal in many countries. Legal risks should be considered.
Data Quality: Scraped data quality may vary, and updates to LinkedIn profiles can affect accuracy.
Data Usage: Compliance with data usage and privacy regulations is essential.
Pricing:
Pricing for LinkedIn scraping tools like Octoparse can vary. Octoparse offers a no-coding solution with a free version. More advanced features may be available in paid plans, the exact pricing depends on your needs.
Octoparse offers a range of pricing plans for its web scraping tool. Prices start at $89/month for the Standard plan, with discounts available for quarterly and yearly billing. The plans vary in the number of tasks, concurrent runs, data rows per export, and other features.
In summary, LinkedIn data scraping offers valuable insights for recruitment, market research, and lead generation. Still, users must be mindful of legal and ethical considerations when using scraping tools. Pricing varies based on the chosen tool and features. Always adhere to local laws and LinkedIn's terms of service.
7. Phantombuster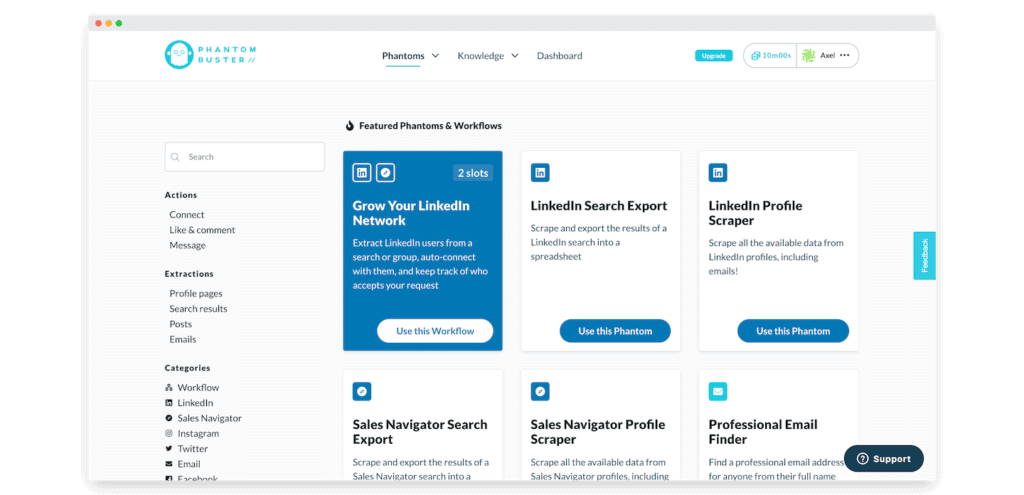 Phantombuster is a powerful LinkedIn automation tool that simplifies targeting, scraping, enriching, and prospecting on LinkedIn. Here are the key aspects of Phantombuster:
Pros:
Automated LinkedIn Prospecting: Phantombuster automates tasks such as profile visits, personalized connection requests, auto-liking, and auto-commenting. This saves time and streamlines your LinkedIn prospecting efforts.
Data Scraping: With Phantoms like "LinkedIn Profile Scraper" and "Sales Navigator Profile Scraper," you can extract detailed information from LinkedIn profiles, including names, job titles, company names, and more.
B2B Data Enrichment: Phantombuster integrates with Dropcontact to enrich LinkedIn data with professional email addresses, contact information, business phone numbers, and legal details, ensuring up-to-date and GDPR-compliant data.
Multi-Channel Prospecting: To increase your chances of reaching prospects, Phantombuster supports multi-channel prospecting. Combining LinkedIn with cold email outreach can enhance your prospecting strategy.
Flexible Pricing: Phantombuster offers various pricing plans, starting from $48 per month, with free and paid options available. The free plan provides 30 minutes of execution time and one automation scenario.
Cons:
Learning Curve: While Phantombuster offers powerful automation capabilities, it may have a learning curve for users who are new to LinkedIn automation tools.
Subscription Required: Integration with Dropcontact requires a subscription to Dropcontact's services, which is an additional cost.
Pricing:
Phantombuster is a versatile tool for LinkedIn automation, offering a range of automation scenarios and data enrichment capabilities. It can be a valuable asset for businesses and professionals looking to streamline their LinkedIn prospecting efforts.
8. We-Connect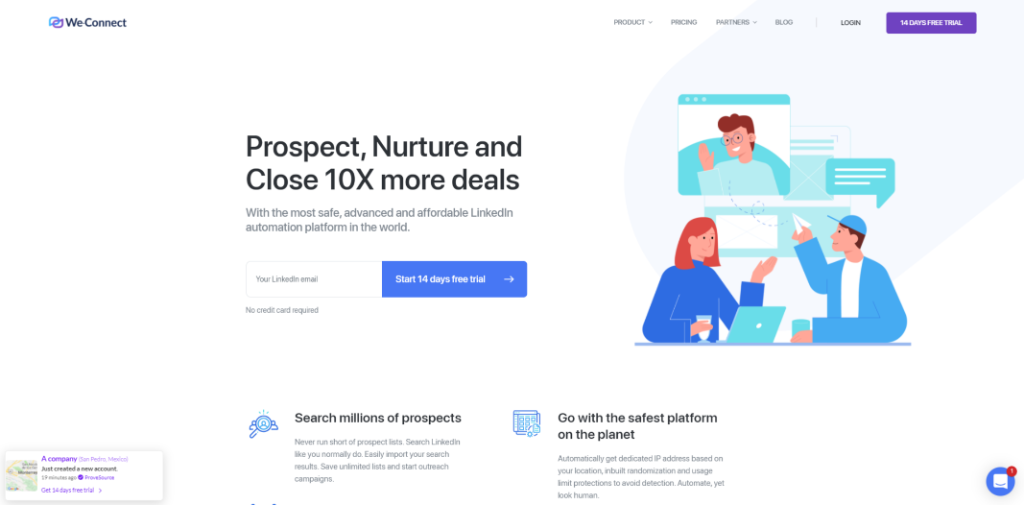 A LinkedIn automation tool that offers data extraction features along with connection requests and messaging. We-Connect is an advanced LinkedIn outreach platform designed for safe and affordable LinkedIn automation. Here are its key aspects:
Pros:
Safe and Advanced: We-Connect focuses on safety while offering advanced automation features for LinkedIn outreach.
Affordable: It provides cost-effective solutions for businesses, marketing agencies, and small enterprises.
Trusted: Trusted by over 10,000 users globally, it has gained a strong reputation in the B2B prospecting community.
Ease of Use: Users find it simple to set up and use, saving time and money on lead generation.
Customer Support: Offers free online chat support during business hours and a comprehensive help library for self-service.
Cons:
The provided information doesn't specify any cons or limitations of We-Connect.
Pricing:
We-Connect offers a 14-day free trial for users to evaluate the platform.
Monthly Pricing starts at $49 Per month.
In summary, We-Connect is a LinkedIn prospecting tool known for its safety, affordability, and user-friendliness. Users can take advantage of the free trial to explore its features and determine if it suits their needs. For detailed pricing information, it's recommended to visit their official website or reach out to their customer support.
12. LinkedIn Connections Analyzer – This tool helps you analyze your LinkedIn connections and extract valuable insights.
13. LinkedIn Company Extractor – Specifically designed for extracting company information, including industry, size, and location.
9. LinkedIn Email Finder by Snov.io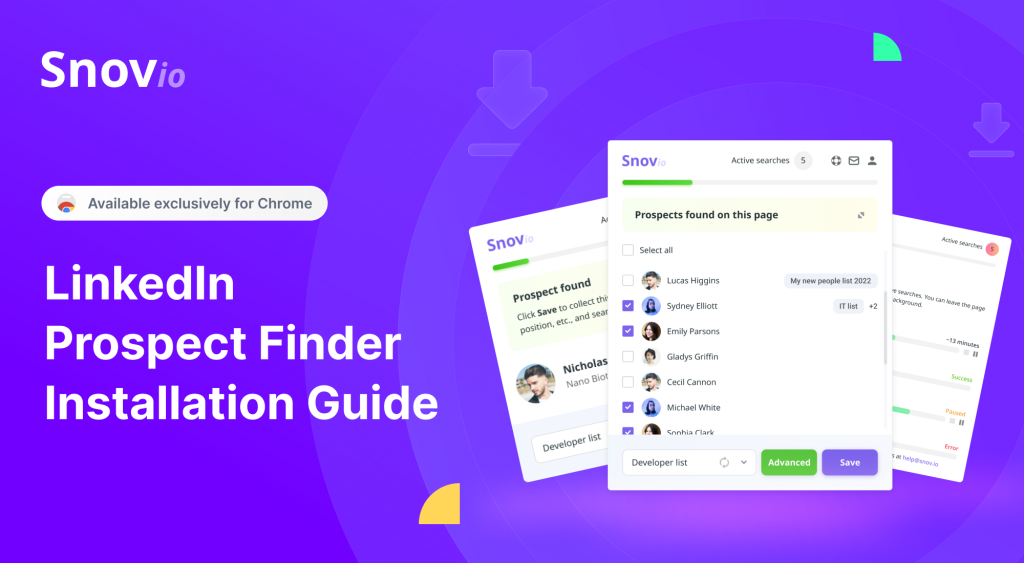 Snov.io provides an email finder tool that works seamlessly with LinkedIn profiles. Snov.io is a versatile lead generation and email marketing tool that offers a wide range of features to help businesses grow their customer base and streamline their email campaigns. Here are the key aspects of Snov.io:
Pros:
Lead Generation: Snov.io provides a suite of lead generation tools, allowing users to collect email leads from various sources, including websites, Google search results, and LinkedIn.
Email Sequences: Users can create email sequences with unlimited follow-ups to nurture cold leads and convert prospects effectively.
LinkedIn Automation: Snov.io offers a fully automated, personalized, multi-channel approach to turning LinkedIn leads into customers faster.
Integration: It seamlessly integrates with popular platforms like Calendly, Facebook Ads, and many others, enhancing its functionality.
Email Verification: Snov.io helps maintain clean and up-to-date email lists with its Email Verifier, reducing bounce rates and improving campaign deliverability.
Drip Campaigns: The platform allows users to set up personalized drip campaigns that engage, onboard, and re-engage users, making it ideal for customer management.
CRM Integration: Users can organize their sales pipeline with Snov.io's CRM, ensuring efficient lead tracking and follow-up.
Cons:
Learning Curve: For beginners, the wide array of features may have a learning curve, and it might take time to fully utilize its capabilities.
Cost: While Snov.io offers a free trial, its pricing plans can become relatively expensive as the user's needs and contacts list grow.
Pricing:
Snov.io offers various pricing plans, including a free plan with limited features. Paid plans start at different price points based on usage, with options for individual users and teams. The Starter Plan has a pricing of $30 per month. Pricing details can be found on their official website.
In conclusion, Snov.io is a powerful tool for lead generation and email marketing, with a multitude of features to enhance sales and marketing efforts. However, users should be prepared for a learning curve and consider the pricing structure as their needs expand.
10. Lusha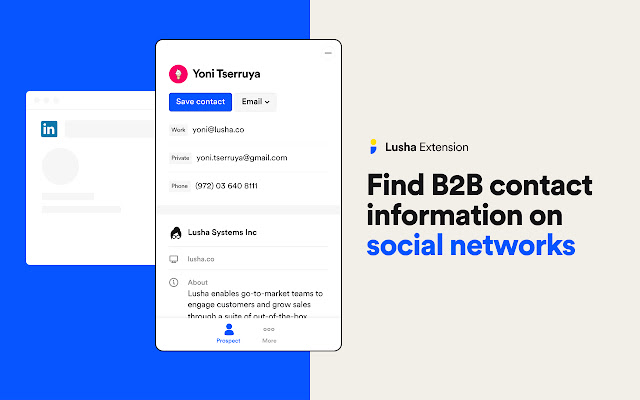 Lusha offers a Chrome extension for extracting contact information from LinkedIn and other websites. Lusha is a sales intelligence tool trusted by over a million users, designed to help businesses reach the right decision-makers and enhance their B2B sales efforts. It offers a range of features to improve prospecting and data quality.
Pros
Accurate Data: Lusha provides globally compliant and accurate B2B company and contact data, ensuring that you reach the right audience.
Intent Signals: The tool offers insights into a company's "likelihood to buy" based on their behavioral signals, allowing for targeted and timely outreach.
Job Change Alerts: Users can stay updated on prospects' job changes, creating opportunities for new business connections.
Technology Filters: Lusha allows targeting companies based on their tech stacks, enabling precise prospecting.
Data Enrichment: It enriches Salesforce records and can auto-enrich any database with accurate contact and company data.
Ease of Use: Lusha is user-friendly and boasts a quick onboarding process, making it accessible for sales teams.
Pricing
Lusha operates on a credit-based system, where 1 Lusha credit is equivalent to access to 1 profile's contact details, including phone numbers and email addresses. The usage of a Lusha credit is incurred when you click the "Show contact" button.
Each Lusha plan offers a different number of credits and features, catering to varying company needs. Unfortunately, the specific credit quantities and pricing details are not provided in the search results.
It's important to note that Lusha offers both monthly and annual plans. Monthly plans renew automatically, while annual plans come with all the credits upon purchase. Unused credits will typically roll over each month for up to 12 months as long as you remain subscribed to Lusha.
Additionally, Lusha ensures that its data is compliant with GDPR and CCPA requirements, prioritizing data privacy and security.
For precise pricing information and to explore the available plans, it is recommended to visit the Lusha website or contact their sales team directly to discuss your business needs.
Lusha is highly regarded by sales professionals for its data accuracy and ease of use, making it a valuable tool for businesses looking to improve their B2B sales efforts.
16. LinkedIn Talent Hub – LinkedIn's own platform for recruiting, offering advanced search and candidate extraction features.
17. LinkedIn Lead Builder – A LinkedIn advertising tool that can help you build lead lists based on your target audience.
18. Phantombuster LinkedIn Auto-Visit Profiles – Automates profile visits on LinkedIn to gather data and expand your network.
11. LinkedIn Profile Scraper by ScrapeStorm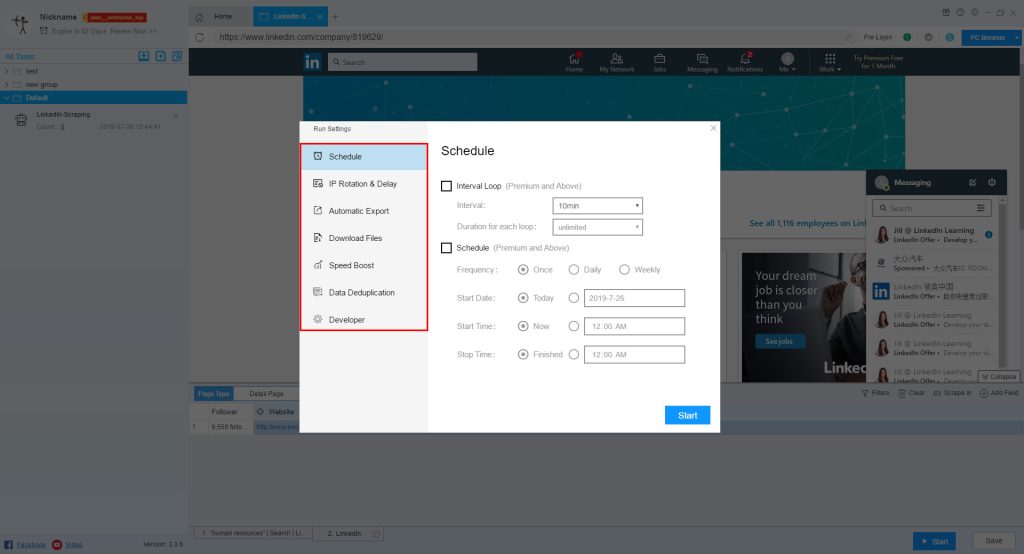 ScrapeStorm provides a LinkedIn profile scraper with a simple, point-and-click interface. ScrapeStorm is a web scraping tool developed by a team with previous experience at Google. It is designed to simplify web scraping tasks with its user-friendly features.
Pros
No Programming Required: ScrapeStorm eliminates the need for manual programming. It uses artificial intelligence to intelligently identify data elements on web pages.
Visual Operation: The tool offers a visual approach to web scraping, making it accessible to users without extensive technical skills. You can interact with web pages using clicks, input text, mouse movements, and more.
Multiple Data Export Options: ScrapeStorm supports various data export formats, including Excel, CSV, TXT, HTML, and integration with databases like MySQL, MongoDB, SQL Server, and PostgreSQL.
Powerful Features: It includes advanced features like scheduling, IP rotation, automatic data export, file downloads, speed optimization, and RESTful API access, making it suitable for a wide range of scraping needs.
Cross-Platform Compatibility: ScrapeStorm works on Windows, Mac, and Linux, ensuring flexibility across different operating systems.
Cloud Integration: Tasks can be saved to the cloud, providing security and access from any computer. It also supports collaborative work across multiple devices.
Cons
Learning Curve: Despite its user-friendly interface, some users may still require time to learn and master the tool's features, especially for complex scraping tasks.
Limited Information: The provided search results lack specific information about pricing, making it difficult to assess its affordability.
Pricing

ScrapeStorm offers a range of pricing plans to cater to different needs, with options for both individuals and businesses. While detailed pricing information can be found on their official website, here's a brief overview:
Free Plan: Available with no cost, no obligation, and no credit card required.
Personal Plan: Includes features like Smart Mode, Flowchart Mode, 10 scraping tasks, unlimited URLs per task, and export to local files. Pricing details are available on their website.
Professional Plan: Offers features such as IP rotation, customization, and priority customer support. Pricing is available on their website.
Premium Plan: Provides higher speed scraping, RESTful API access, and more. Visit their website for pricing information.
Business Plan: Tailored for specific business needs, including customization and expert support. Pricing details are available on their website.
Enterprise Plan: Offers advanced features like artificial intelligence image recognition and tailored services. For pricing, contact their sales team directly.
For those interested, there's a 14-day free trial available with no credit card required.
Please refer to their official pricing page or contact their sales team for precise and up-to-date pricing information tailored to your requirements.
12. Skrapp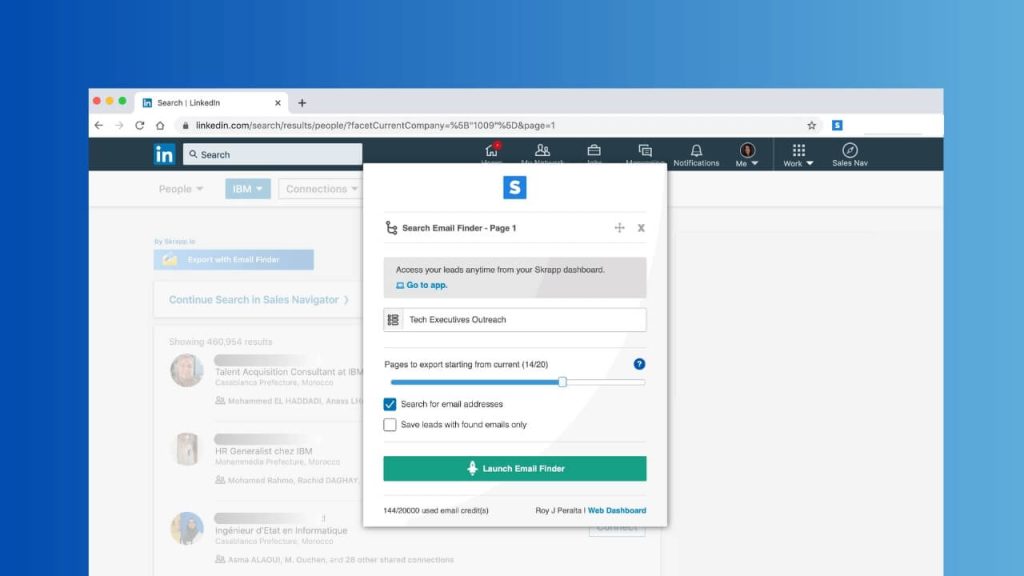 Skrapp is a Chrome extension that helps you build targeted email lists from LinkedIn profiles. Skrapp is a tool known for its outstanding customer service and efficiency in extracting contact information, particularly from LinkedIn. It offers both pros and cons:
Pros:
Outstanding Customer Service: Skrapp is praised for its exceptional customer service, assisting users in resolving any issues they encounter.
Efficiency: Users appreciate the tool's time efficiency and user-friendly interface, making it simple and effective
Bulk Search: Skrapp supports bulk search, a valuable feature for users who need to collect contact data in large quantities.
Cons:
LinkedIn Only: Skrapp is limited to searching for contacts on LinkedIn, which may not suit users looking for data on other platforms
Data Accuracy: Some users have reported occasional inaccuracies in the contact information provided by Skrapp
Limited Data Sources: Skrapp's functionality is focused on LinkedIn, limiting its versatility compared to tools that can extract data from various websites
Pricing:
Skrapp provides an initial offering of 150 free monthly credits to users. For those requiring more extensive usage, their pricing options are as follows:
Basic Plan: Starting at $49 per month, this plan includes 1,000 email credits monthly.
Advanced Plans: Skrapp offers flexible options, with pricing that can go up to $1699 per month, providing 500,000 email credits monthly.
Additionally, Skrapp's sales team is adaptable and willing to tailor plans to suit the specific needs of customers, ensuring a customized approach to email credit requirements.
Before using any LinkedIn scraper tool, it's crucial to review LinkedIn's terms of service and comply with their policies to avoid any potential legal issues. Additionally, some tools may require technical skills, so choose the one that best suits your needs and expertise.
In conclusion, LinkedIn scraper tools are invaluable for extracting data from this professional networking platform. Whether you're a marketer, recruiter, or researcher, these tools can streamline your data collection process and provide you with valuable insights for your business or career. Choose the one that aligns with your goals and start harnessing the power of LinkedIn data today.